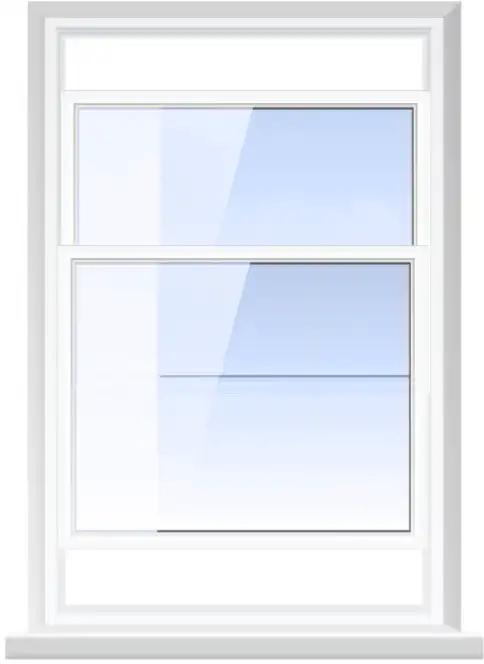 Product Overview
Double Hung Windows can be raised from the bottom and lowered from the top, letting fresh air in. A full-sized screen keeps the Florida bugs out.
Should a hurricane hit, you will want a window that can keep out the storm damage as well.
The hurricane impact glass on our double-hung custom impact windows is made of high-quality tempered glass, providing strength that is four times stronger than regular glass. A layer of polyvinyl butyral, or PVB, sits in the middle of two separate panes, giving the window strength and flexibility. In addition, the PVB ensures that a puncture does not shatter the glass into many pieces.
DOUBLE HUNG WINDOWS DESCRIPTION
GLASS OPTIONS Impact Resistant THERMAL ENHANCEMENTS Argon Gas (requires insulating glass) High Performance Low-E SCREEN TYPES 1816 Charcoal or Gray 2020 Screen mesh (optional) PREMIUM GLASS OPTIONS Tempered Glass Privacy Glass (Obscure Textured)
FLAT GRID (GBG) 9/16" wide or 13/16" wide grid between the glass TRADITIONAL SIMULATED DIVIDED LITE GRIDS 7/8" wide raised ogee applied to exterior and interior with 9/16" wide bronze shadow bar between the glass. CONTOUR GRID (GBG) 1" wide grid between the glass
We build stronger communities by putting profits second and people first. Soriglass Inc. Hurricane Impact Double Hung Windows in Florida promises our customers can count on:
Unbreakable Reliability
We are transparent, with an unwavering commitment to deliver on our promises
A Commitment to Excellence
We make sure every project is a "job well done" from start to finish. Expect the best experience from those who put your satisfaction first.
A Focus On the Future
We make an impact on your tomorrow by continually updating and investing in the best products and strategies for protecting properties. You'll get top-notch products and long-lasting results. You can count on it!
A Commitment to Communities
We are wholly dedicated to amazing service to the communities we live and work in.
That's why we back every installation with a 15-year product warranty and a lifetime satisfaction promise.
Our warranty is our visibility. Expect the best from the people you call "neighbor."
PGT was founded in 1980 by Paul Hostetler and Rod Hershberger to venture into porch enclosure products. In 1987, the company expanded its venture to manufacturing windows and doors. In 1996, they were the first manufacturer to offer a full suite of hurricane impact resistant windows and doors.
Following the destruction by Hurricane Andrew in 1992, PGT helped Florida officials write some of the most stringent impact code requirements, and they also hold the most Miami-Dade certifications in the industry.Today, they offer windows and doors tailored by frame, style, performance, and collection.
In addition to providing hurricane impact windows in florida protection, PGT products are energy-efficient, visually appealing, prevent noise transfer, and add to the security profile of a building.
Eco Windows is one of the leading hurricane impact windows manufacturers in South Florida, founded in 2008 by Frank Mata. In January 2021, the company partnered with PGTI.
The company is dedicated to offering you economy, efficiency, professionalism, and reliability. ECO Windows Systems continues to meet the manufacturing challenges by offering top-quality hurricane impact windows, doors, and window wall systems.
Eco Window Systems products protect against high winds and help contribute to a more comfortable home via reduced noise transfer and enhanced thermal envelope. Their products are popular throughout Florida and the Caribbean.
Mr. Glass Doors & Windows Manufacturing, LLC was founded in 2005 in Miami, FL. It specializes in the design and manufacturing of hurricane impact windows and doors for residential and commercial structures.
Some of their hurricane impact windows and doors products include single hung, picture windows, horizontal slider, and sliding glass doors. As with their competitors, their impact windows can be seen in major residential and commercial projects throughout Florida and the Caribbean area.